Clemson Honors Student Ambassadors
Looking for a Student Perspective on Clemson Honors?
Clemson Honors Student Ambassadors are Honors student volunteers who are official ambassadors for the Honors College and who are passionate about Honors at Clemson University.
Ambassadors meet with prospective students and their families to provide a student perspective on their various Honors experiences.
They are a diverse group of students, representing each of Clemson's academic colleges listed below, and they are involved in all aspects of campus life. They are developing communication, teamwork, and leadership skills as they interact with prospective students and their families.
You can read more about each ambassador within their major's college.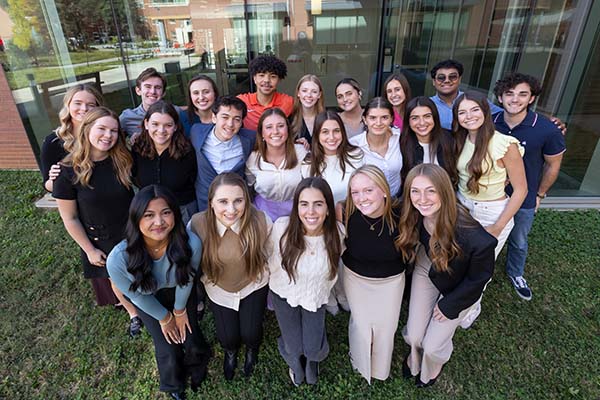 Name: Riley Burke
Hometown: Chester Springs
Major: Accounting & Finance
Class: Sophomore
Email: rpburke@clemson.edu
Introduction: Hey, guys! My name is Riley Burke, and I'm a sophomore accounting and finance major from Chester Springs, Pennsylvania (which is about an hour outside of Philadelphia). Here at Clemson, I'm involved in the professional business fraternity, Delta Sigma Pi, and am currently serving as the Director of Financial Development. I also am involved in UNICEF and Habitat for Humanity, and in the future want to also serve on the College of Business Student Advisory Board to strengthen my existing relationship with the faculty here at Clemson.
Ask me about...: One of the main reasons I became an honors ambassador was to be able to talk about Clemson as much as I can, so ask me anything about my experience at Clemson, the honors college specifically, the surrounding town, etc.! For example, if you are looking for a recommendation on the best places to eat in Clemson, ask me and I will tell you some of my personal favorites! Being from Philadelphia, I am also a huge sports fan so feel free to ask me about really any sport, but I mainly follow football, basketball, and soccer.
My advice for prospective students: My biggest piece of advice for prospective students is to practice being disciplined and organized in your everyday life. In my experience, the most successful college students are those who make sure to stay ahead of the game and plan out their schedules, always aware of what they need to get done and when. Also, now that you will most likely be living without your parents, college requires the discipline to make your own smart decisions and sacrifices.
Why I chose Clemson and the Honors College: I was sold on Clemson University after my first tour. I came down in March of my senior year of high school and even now, I have no words to describe a bustling Clemson campus on a beautiful sunny day. The people at Clemson are so positive and happy to be here that I was simply taken aback and knew I wanted to feel that same way about the school I went to. I chose the Honors College specifically because I wanted to surround myself with like-minded, driven individuals who strive for personal and professional success.
My favorite thing about the Honors College: My favorite thing about the Honors College is the offerings, resources, and opportunities they provide to their students. Additionally, living in the Honors Residential College my freshmen year allowed me to meet so many new people across every different major possible. My roommates (all Honors students) are comprised of a biomedical engineer, an industrial engineer, a biologist, and a financial analyst (myself). All of us have completely different world perspectives, and I am constantly learning something new from them or a different way to do something, all thanks to starting off in the Honors College.
My involvement in the Honors College: In the honors college specifically, I am participating in a virtual study abroad internship program meant to make up for any lost opportunities current students had because of the restrictions COVID-19 has placed on study abroad programs. My internship placement is with a London-based company, AHV Associates, who focuses on mergers and acquisitions, specifically in the hotel space.
My involvement in Clemson University: At Clemson University, I am involved in Delta Sigma Pi, which is the professional business fraternity on campus. This semester, I am serving as the Director of Financial Development for that organization, where my primary responsibility is to organize activities to raise money that will be used to sustain our chapter's operations. Beyond Delta Sigma Pi, I am also involved in UNICEF and Habitat for Humanity on campus, two organizations that help me give back to the surrounding community.
Orange or purple?: Both
Three things I cannot live without: 1. My phone 2. My laptop 3. Raising Cane's (an amazing restaurant I did not know about until I came to Clemson!)
My spirit animal: My spirit animal would most likely be a wolf, because I am fiercely loyal to those who have earned my trust and I am also independent and individualistic.
What makes me happy to be alive: The Philadelphia Eagles winning the super bowl a few years back now might be the singular happiest moment in my life.
Favorite place on campus: I can most likely be found at the Core Starbucks on campus, both because that's where Raising Cane's is and because there you get to see so many people you know. I cannot even begin to count the times where I've been doing homework there and then have seen some friends or people I know who I was able to catch up with.
Three interesting facts about me: 1. I lived in Australia for six months as a toddler. 2. I have been waterskiing since I was about 10 years old. 3. I have already been to Paris on two separate occasions.
My future goals: Professionally, my future goals are to (1) work for one of the big 4 accounting firms following graduation, (2) earn the Certified Public Accountant (CPA) and Certified Financial Planner (CFP) distinctions, and (3) potentially go back to school for a master's degree. Personally, my biggest goal is to be able to travel all over the world, and I currently have a list of 10-15 places I want to travel to!
How has the Honors College made a difference in your life?: The Honors College has made a difference in my life primarily in the fact that it has helped me grow both personally and professionally. To explain, on a personal level, the Honors College has introduced me to people from so many different walks of life, all with unique interests and goals, who all have a common desire for success and going the extra mile. Professionally, the Honors College has helped me grow by providing me opportunities, such as a virtual "abroad" internship, that has enhanced my technical knowledge and understanding of the field(s) I plan to go into.