318 Riggs Hall
Email: promogroup@clemson.edu
Hours: 8:00am–4:30pm M–F
Brand Resources
PROMO Links
Request Services
E-Newsletters
The PROMO Group is here to help your department create and distribute electronic, emailed newsletters. This is a great way to promote your news, announcements and events. We can help you send to both your department's alumni base, as well as any additional stakeholders—as long as you have their permission (e.g. department chair colleagues at other universities, corporate donors, etc.).
To begin the process, please complete the E-Newsletter Request Form below, keeping in mind the following guidelines:
Request a send date that is at least 2 weeks out. The Alumni Office requires a 2-week notice for all email distributions. Aim for somewhere between 5-10 stories for your newsletter.
Make sure your news stories reside online. The goal of email newsletters is to make them as quickly digestible as possible. Therefore, we use headlines and excerpts in the body of the newsletter that are linked to the full story online. These full articles can be located either on Clemson News, your departmental blog, or any other webpage on the internet.
Upload/email your newsletter content in the following format: Create a Word document with a headline, excerpt, and web link for each story. Headlines should be a single, brief statement and excerpts should be a summary of no more than 2-3 brief sentences. Include the link to the full online article/video you are wanting to share. Provide any photos for each story by saving your image files with the corresponding number of the article (e.g. "1.jpg", "2.jpg" etc.). Images should be reasonably high resolution and horizontal (landscape) orientation. Please package/zip your Word document and photos into a single file before uploading/emailing.
SAMPLE NEWSLETTER  |  SAMPLE ZIPPED FILE
Upload any additional email lists that you want your e-newsletter sent to. Departmental e-newsletters are sent to faculty and staff in the college as well as your departmental alumni base. If you have additional constituents you wish to include, provide those in a CSV file with just one column for the email addresses.
And that's it! The PROMO Group and Alumni Office will handle the rest.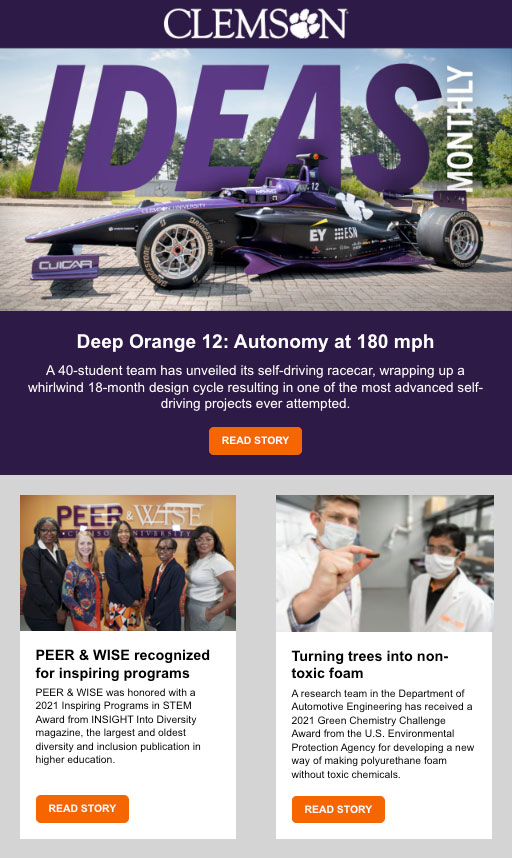 E-Newsletter Request Form
College of Engineering, Computing and Applied Sciences
College of Engineering, Computing and Applied Sciences | Riggs Hall