Clemson Honors Student Ambassadors
Looking for a Student Perspective on Clemson Honors?
Clemson Honors Student Ambassadors are Honors student volunteers who are official ambassadors for the Honors College and who are passionate about Honors at Clemson University.
Ambassadors meet with prospective students and their families to provide a student perspective on their various Honors experiences.
They are a diverse group of students, representing each of Clemson's academic colleges listed below, and they are involved in all aspects of campus life. They are developing communication, teamwork, and leadership skills as they interact with prospective students and their families.
You can read more about each ambassador within their major's college.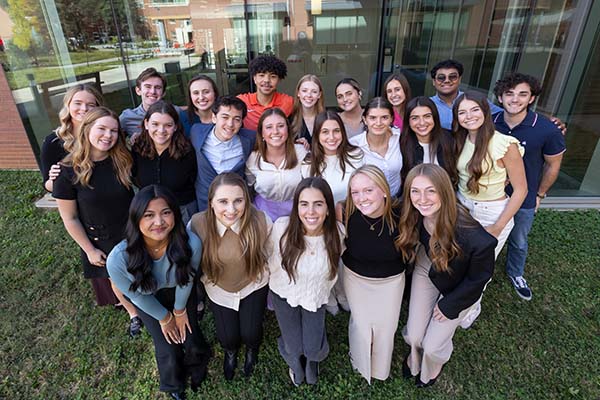 Name: Aidan Quinn
Hometown: Chesterfield
Major: Bioengineering
Class: Freshman
Email: ajquinn@clemson.edu
Introduction: Hey! My name is Aidan, and I'm a freshman bioengineering major from Chesterfield, New Jersey. I love the outdoors and anything to do with hiking, biking, and rock-climbing. I play club spikeball and a few other sports here and there around campus. I'm also a musician and love to make music! One of my long term goals is to become a licensed real estate agent and to work for a great engineering company!
Ask me about...: Ask me about anything related to the Honors College, good on-campus and off-campus eats, club spikeball, football, cool study spots, fun activities in the Clemson area, interesting classes, engineering majors, residential living spaces, and any questions about Clemson in general!
My advice for prospective students: To any student who is unsure about coming to Clemson, I want you to picture yourself in Death Valley on a Saturday night, beating Notre Dame, and singing the alma-mater with 80,000 other people. Combine that with an academic institute of learning, character development, and overall wellbeing of students, Clemson is hard to beat.
My advice for current students: My advice for anyone currently attending Clemson is to really get involved with anything and everything that you can! Everyone has a home in Clemson, nobody is ever left out of a group because our unique and diverse student body has virtually limitless opportunities!
Why I chose Clemson and the Honors College: The Honors College at Clemson University has been one of the most rewarding and enriching experiences of my life. I have met some of my best friends, worked with amazing faculty and staff, and have gotten into some remarkable classes! All of this would not have been possible without the Clemson University Honors College.
My favorite thing about the Honors College: By far, the community and people that I have met through the Honors College has been the most rewarding experience so far! The priority registration, and free printing are also pretty nice.
My involvement in Clemson University: Clemson has hundreds of clubs and organizations and I'm proud to be a member of club spikeball, the Clemson Waterfall Chasers, the Rock-Climbing Club, the Piano Club, the Research Investment Club, and the Clemson Undergraduate Real-Estate Club.
If I could travel anywhere: If given the opportunity to travel anywhere in the world, I would travel to the French Alps to snowboard the pristine snow-covered mountains and take in the views from 17,000 feet up.
What is on my Spotify/iTunes playlist?: I think the question should be more of what isn't on my Apple music playlist?! I love any and all music, but some of my favorite artists are Tyler the Creator, Allen Stone, Jacob Collier, and Kid Cudi.
Three things I cannot live without: I can't live without music, the beach, and coffee!
My spirit animal: My spirit animal has to be a cheetah! I like to be quick, grounded, and calculated.
My favorite Clemson class: My favorite class so far at Clemson had to be my honors seminar, BioInspired. It was a great discussion based class where we would talk about modern medicines and their roots in biological organisms.
What makes me happy to be alive: Creating music and letting my creativity run wild makes the hard days worth it. To be able to say that I made something that makes me and other people happy is one of the finest joys in life.
Three interesting facts about me: 1: I'm an avid surfer! 2: I got stopped by the Department of Homeland security coming back from Germany when I snapchatted in customs. 3: I was the Freshman-Sophomore state champ in pole-vault during high-school.
What are your plans after graduation?: Post-graduation, I want to find myself being a helpful person in the world. Whether that be through helping my community with affordable housing or through helping the less fortunate with bioengineered medicines.
How has the Honors College made a difference in your life?: Without the Clemson Honors college, I would still be Aidan Quinn from New Jersey. But with the Clemson Honors college, I'm Aidan Quinn, Clemson University Honors Student, enriched with the honors experience of mind, body, and soul.