Clemson Honors Student Ambassadors
Looking for a Student Perspective on Clemson Honors?
Clemson Honors Student Ambassadors are Honors student volunteers who are official ambassadors for the Honors College and who are passionate about Honors at Clemson University.
Ambassadors meet with prospective students and their families to provide a student perspective on their various Honors experiences.
They are a diverse group of students, representing each of Clemson's academic colleges listed below, and they are involved in all aspects of campus life. They are developing communication, teamwork, and leadership skills as they interact with prospective students and their families.
You can read more about each ambassador within their major's college.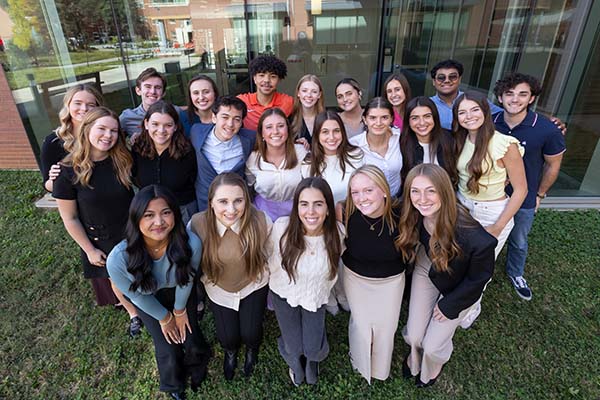 Name: Aki Saito
Hometown: Richmond
Major: Psychology
Class: 2024
Email: asaito@clemson.edu
Introduction: Hello! My name is Akiha Saito, a freshman at Clemson University. I study psychology as my major, and I have biological sciences as my minor. Through my experiences at Clemson, I hope to advance to medical school and become a psychiatrist in the future. The question of where my hometown is has always been something that I question myself over. I was born in Richmond, Indiana, however, I've most likely lived the longest in Bowling Green, Ohio. But, I am attending Clemson University in-state, and when I enrolled in Clemson I had been living in South Carolina for approximately 3-4 years. Outside of school, I enjoy hanging out with my cats and baking if I have the free time.
Ask me about...: Ask me about cinema! I enjoy discussing movies, and although I haven't nearly watched enough movies to be called a "professional," I believe I've watched enough to be able to hold a conversation. Whether it be romance, horror, science fiction, I've watched movies in many genres and I'd love to talk about them!
My advice for prospective students: Of course, this school year is different from how it would normally be with the ongoing pandemic. However, there are certain experiences that can be enjoyed due to it! As the pandemic hits many schools hard, these are times when people work together to overcome those difficulties. Clemson is a great university in which you'll have multiple opportunities to get with other students and work together on projects or towards a goal. Online classes may seem drab, however, there are always opportunities at Clemson to get to know your classmates!
Why I chose Clemson and the Honors College: I decided to choose Clemson University due to its environment and quality psychology program. As the college located in a small town, Clemson has the coziness and comfort of a college town. Also, due to the strong familial spirit in Clemson, everyone seems to be united through their love for Clemson. I've moved several times but I've never experienced such a supportive environment in which everyone is brought together by their love for Clemson University. The reason why I joined the Honors College is due to its history of excellence. With many students who have outstanding academic achievement and later earn elite scholarships and fellowships, it goes to show that the environment, programs, and experiences at the Honors College motivate students and support them in achieving their goals.
My favorite thing about the Honors College: My favorite thing about the Honors College is how close-knit the community is. Of course, you won't be able to meet all the Honors students considering how many people there are, but there are so many activities, groups, and events that let you get to know each other. Also, since many of the students in the Honors College have similar goals it's easier to get to know each other. Everyone is very friendly, and it feels like its own community within Clemson.
My involvement in the Honors College: Currently, I am partaking in the Dixon Fellows Program in the Honors College where I am able to enjoy a community focused on engaging discussion and conversation. There are also many senior fellows whom I can learn from and interact with. Another program that I am participating in is the Honors Peer Mentoring Program. It's a program where, as a new member of the Honors College, you get to meet with upperclassmen who will mentor you and give you advice about your classes and such at Clemson. It's very helpful to have an experienced upperclassman who you can confide in and ask questions. Lastly, I am also involved in Wellness Ambassadors in which I can safely meet with other students and partake in crafts and other activities.
My involvement in Clemson University: Outside of the Honors College, I mainly do tutoring in Japanese at the Academic Success Center. It's been a very fun experience being able to meet other students and teaching others about a country and language that I love.
Orange or purple?: Orange
Three things I cannot live without: 1. My family (cats included) 2. Food 3. Music
My spirit animal: I believe my spirit animal would be a turtle. I've never been fully invested in the field of spirit animals, however, I believe that a turtle would be most closely related. A turtle is highly spiritual and serves as a guide on the journey toward wisdom, u
What makes me happy to be alive: Whenever I travel to somewhere new and I get to experience new sensations and views I feel happy to be alive. The adrenaline of knowing that you've done something or gone somewhere that you usually wouldn't has me experiencing the rush of being alive. Another time is when a new episode or season of my favorite show comes on!
Three interesting facts about me: 1. I've moved 5-6 times in my life with one being outside of the US 2. I have four, yes four, cats 3. I can speak three languages, although my Spanish is questionable
What are your plans after graduation?: My plans after graduation are to proceed to medical school. Depending on how competitive the medical school that I am trying to apply to is, I may obtain a master's degree. In medical school, I will work to receive my Doctor of Medicine (MD) degree. Afterward, I will have to complete my four-year residency so that I am able to practice medicine.
How has the Honors College made a difference in your life?: The Honors College has made me realize that I must work harder and be attentive to what is around me. With so many opportunities it seems easy to let certain ones slip away, however, the Honors College has shown me that even the smallest opportunities are important, and I must consider my goals and objectives seriously in order to become successful.