Clemson Honors Student Ambassadors
Looking for a Student Perspective on Clemson Honors?
Clemson Honors Student Ambassadors are Honors student volunteers who are official ambassadors for the Honors College and who are passionate about Honors at Clemson University.
Ambassadors meet with prospective students and their families to provide a student perspective on their various Honors experiences.
They are a diverse group of students, representing each of Clemson's academic colleges listed below, and they are involved in all aspects of campus life. They are developing communication, teamwork, and leadership skills as they interact with prospective students and their families.
You can read more about each ambassador within their major's college.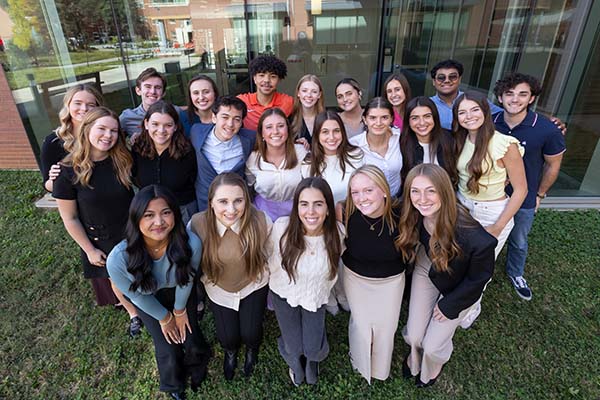 Name: Jillian Young
Hometown: Bridgewater
Major: Psychology
Class: May 2025
Email: jilliay@clemson.edu
Introduction: Hi everyone! My name is Jillian Young and I am a Freshman from Bridgewater, New Jersey. I am majoring in Psychology with a double minor in Youth Development Studies and German. Here at Clemson, I am on the Recruitment Committee for Clemson Miracle, Clemson HOPE, Volunteers4LIFE, and the Clemson Hiking Club. In my free time, I love to go to the gym, run, hang out with friends, and read a good book. One of my favorite places to run is out on the DIKES. Also, I am a huge fan of everything Disney and hope to participate in the college program there!
Ask me about...: Clemson Miracle, Psychology, German, double minoring, honors seminars, work out classes, best places to eat and shop downtown
My advice for prospective students: Choose the place that fits best for you and feels like home! Do not be afraid to put yourself out there and ask questions. Introduce yourself to people you may meet on campus and always be yourself!
My advice for current students: Work hard, but do not forget to join clubs and form connections outside of the classroom as well! Enjoy these next 4 years and leave your mark; they will fly by!
Why I chose Clemson and the Honors College: The community that Clemson University has is beyond anything I have ever experienced before. Everyone here is kind, and genuinely cares about you and your wellbeing. I fell in love with this school for exactly that reason, the people that make up this campus. In terms of the Honors College, I have always been committed to my academics and I wanted to continue to challenge myself. The Honors College allows me to do just that and be surrounded by an amazing group of individuals of the same mindset. It is a small family within the larger Clemson community, which is wonderful to have.
My favorite thing about the Honors College: The friendships it has given me, the interesting seminar topics, early registration, and free printing!!
My involvement in the Honors College: I am an Honors Ambassador as well as involved in an Honors Seminar titled "Writing, Body, and Earth". In this course we get to experience the connection between mind, body, and earth through writing in nature.
My involvement in Clemson University: Clemson Miracle (Recruitment Committee), Clemson HOPE, Volunteers4LIFE (Fitness Club Leader), and Hiking Club.
My spirit animal: I feel my spirit animal is a butterfly. We both are constantly growing and changing but learn to adapt to that change. We also both have migrated from home but always know how to find our way back .
Three interesting facts about me: I have been doing archery since I was 4 years old, I have been to Disney over 20 times, and I talk in my sleep.
My future goals: Become a Child Psychologist and run my own practice
What are your plans after graduation?: I plan to attend grad school and obtain my PhD in Developmental Psychology. Afterwards, I hope to work with children in the future and have a family of my own.
How has the Honors College made a difference in your life?: Without the Honors College, I would not have the friends I have today. Many of my best friends I met on my floor, and I am grateful for that. The Honors College has taught me to push myself academically, but that there is a large support system for you as well. It is truly a family here.