Clemson Honors Student Ambassadors
Looking for a Student Perspective on Clemson Honors?
Clemson Honors Student Ambassadors are Honors student volunteers who are official ambassadors for the Honors College and who are passionate about Honors at Clemson University.
Ambassadors meet with prospective students and their families to provide a student perspective on their various Honors experiences.
They are a diverse group of students, representing each of Clemson's academic colleges listed below, and they are involved in all aspects of campus life. They are developing communication, teamwork, and leadership skills as they interact with prospective students and their families.
You can read more about each ambassador within their major's college.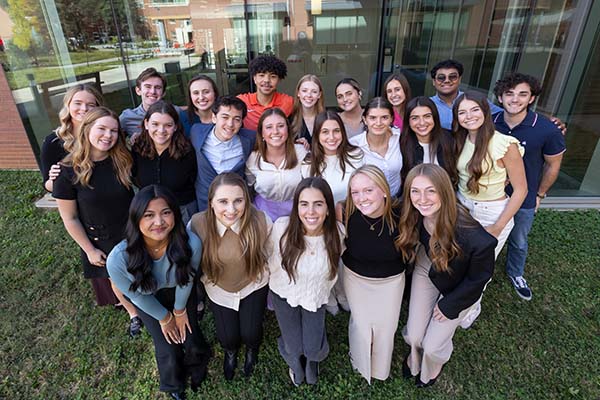 Name: Gracie Boyce
Hometown: Columbia
Major: Economics, B.A.
Class: 2023
Email: mgboyce@clemson.edu
Introduction: Hi, everyone! My name is Gracie Boyce and I am a sophomore economics major from Columbia, SC. When I'm not in class or telling people how much I love the Clemson Honors College, I am likely playing violin in the Clemson University Symphony Orchestra, hanging out at Clemson Wesley, or working as a Writing Fellow in the Writing Center. I also enjoy reading, writing, drawing, and forcing other people to listen to Broadway soundtracks. I'm hoping to attend graduate school after Clemson and eventually work in economics research.
Ask me about...: Book recommendations, Clemson Wesley, the Writing Center, Clemson Symphony Orchestra, boba tea Wednesdays at All In, Dollar Slice Night at Todaro's, what to eat in the Core dining hall, Gilmore Girls
My advice for prospective students: My main piece of advice for prospective students is to find a school (hopefully Clemson Honors) that makes you feel really comfortable! One of the reasons I knew I wanted to come to Clemson was that everyone on campus was really friendly and cared about me as an individual, just not another random prospective student. There are a lot of factors to consider when choosing a college, but it's important to go somewhere that you will feel happy!
My advice for current students: I always make sure I ask my friends what professors and classes they recommend -- I've ended up in some really good class sections that way. A supportive and friendly professor makes a huge difference! Also, make sure you keep an umbrella in your backpack because it rains randomly sometimes.
Why I chose Clemson and the Honors College: There were a couple of main reasons I chose to attend the Clemson Honors College. The first is that when I visited campus, everyone I encountered was really friendly and enthusiastic about Clemson. The second is that I knew that attending the Honors College at Clemson would provide me with a smaller community and additional opportunities while I would still have access to the resources of a large research university. Living and learning in the Honors College is an awesome experience, and so is being a Clemson student and going to football games and other events!
My favorite thing about the Honors College: My favorite thing about the Honors College so far is living in the Honors Residential College (DesChamps and Cribb). I met a lot of my new friends because they lived on my hall. We would hang out in the lounge at the end of the hall all the time, whether we were doing homework, playing cards, or watching movies. The Honors College has tons of great study spaces, its own classrooms, and close proximity to a dining hall (which is always a positive). I loved that when I needed help with my calculus homework, I could easily leave my room and find someone willing to help me. I really enjoyed the experience of living with so many other motivated and passionate students.
My involvement in the Honors College: In addition to Honors Ambassadors, I am a member of the Dixon Global Policy Scholars Program and I participated in the Honors Peer Mentoring program as a freshman, which was really fun! I'm hoping to be in SASH, Seniors Advising Sophomores in Honors, this year as well!
My involvement in Clemson University: I am a violinist in the Clemson University Symphony Orchestra and I work as a Writing Fellow in the Writing Center. I am also on the leadership team for Clemson Wesley and write for HerCampus online magazine. I'm also hoping to start doing research this semester!
Orange or purple?: Orange
What is on my Spotify/iTunes playlist?: The music I like is somewhat random, but I listen to Broadway soundtracks (Hadestown, Hamilton, Anastasia, In the Heights, and several more), Taylor Swift, Ben Platt, The Lumineers, and AJR, along with some songs I found on TikTok.
Three things I cannot live without: Three things I can't live without are my violin, a comfy sweatshirt, and my books.
My spirit animal: If I had to choose one, I would say my spirit animal is an owl because I like observing things and really thinking about them.
What makes me happy to be alive: Some things that make me happy are visiting a cute bookstore, watching the sunset from the balcony in DesChamps, nailing a difficult passage in a violin piece, eating dinner on Sunday nights at Clemson Wesley, and petting my dog.
Birthday meal: I usually want Chick-fil-A or pasta!
Three interesting facts about me: I have played violin since I was five years old, I was born two months early, and I've read the Harry Potter series over 10 times.
My future goals: My future goal is to obtain my PhD and become an economics professor (hopefully the one everyone likes and recommends to other students). I'd love to do research that can provide insight into the economy and help people.
What did you do this summer?: This summer I took a couple of summer online classes (Calculus III and German). I was also a political intern for Adair Boroughs for Congress. Adair is trying to flip a Congressional district in South Carolina, so I researched and contacted organizations and elected officials throughout the district to set up meetings for her.
How has the Honors College made a difference in your life?: The Honors College has provided me with lots of support -- other students and staff have been great about giving me advice about classes and future steps. I've been able to attend really interesting events in the Great Hall, like Dr. Lasser's discussion on the impeachment trials and a Penn Law information session. I'm also looking forward to being in the Dixon GPS program, because I know I will learn so much about policy from that program and I can't wait to (hopefully!) travel to Europe next summer with my cohort.