Clemson Honors Student Ambassadors
Looking for a Student Perspective on Clemson Honors?
Clemson Honors Student Ambassadors are Honors student volunteers who are official ambassadors for the Honors College and who are passionate about Honors at Clemson University.
Ambassadors meet with prospective students and their families to provide a student perspective on their various Honors experiences.
They are a diverse group of students, representing each of Clemson's academic colleges listed below, and they are involved in all aspects of campus life. They are developing communication, teamwork, and leadership skills as they interact with prospective students and their families.
You can read more about each ambassador within their major's college.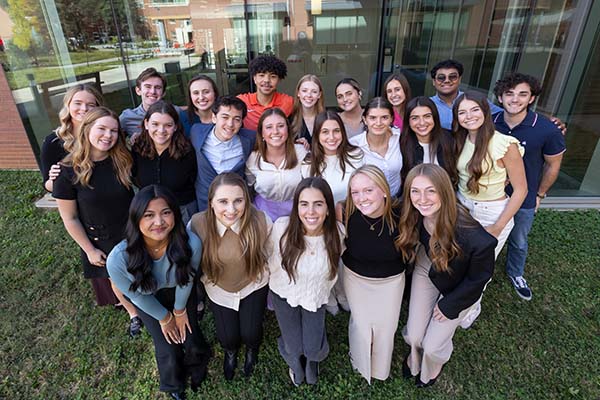 Name: Micayla McMahon
Hometown: Greenville
Major: Biochemistry
Class: 2021
Email: micaylm@clemson.edu
Introduction: My name is Micayla McMahon and I am a senior Biochemistry major and Biological Sciences minor! The past three years at Clemson have been such a wonderful experience for me, as I have made some of the best friends and have been able to get involved in all the things I love! Clemson truly is a family and I know you will love it here, too. I am hoping to attend medical school after Clemson, so I have really gotten involved with great pre-medical resources here at Clemson. Other than my interest in medicine, I have loved getting involved in local volunteering, ministry, and intramural sports at Clemson! In my free time, I love spending time with my friends, going to football games, walks by the lake, and drawing!
Ask me about...: You can ask me about just about anything! I have loved getting involved across campus, whether it is intramural sports, service, or school spirit! I am a Greenville native, from about 45 minutes away, so I know a lot about what's around too!
My advice for prospective students: My advice for prospective students is to embrace change. Coming into college is a scary thing, but the great part is that everyone around you is scared, too. Don't be afraid to try new things or meet new people! You never know when you will find your best friends and greatest opportunities.
My advice for current students: Find someone to mentor! This can be one of the most rewarding experiences for the both of you. You get to share your experiences and lessons learned while also making a great friend out of it!
Why I chose Clemson and the Honors College: When I opened my Clemson University and Clemson Honors acceptance letters, it was a feeling I had with no other acceptances. It sounds cheesy, but I just knew Clemson Honors was the place for me. Between the opportunities it offered me, the family feeling, and the Tiger pride, I knew. I knew that Clemson Honors was a place that I could be myself while also having the people and resources to push me to be the best version of myself.
My favorite thing about the Honors College: My favorite thing about the Honors College is that you always have someone to turn to. The Honors College has given me wonderful friendships, classmates, and mentors. The best part about it is that nobody is competitive! Everyone is willing to help you when you need a shoulder to lean on!
My involvement in the Honors College: Clemson Honors Peer Mentor, Clemson Honors Ambassador, Clemson Honors Dixon Fellows, lived in the Honors Residential College.
My involvement in Clemson University: Clemson CMED, Clemson RAPPERS, Alpha Epsilon Delta Honors Medical Fraternity, Alpha Phi Sorority Director of Community Service, Order of Omega Greek Honors Society, Mortar Board Honors Society for College Seniors, MedEx Academy Club President/MedEx Academy Intern, Biochemistry and Genetics Club, Fellowship of Christian Athletes Small Group Leader, Intramural Basketball and Soccer, Clemson Miracle Dance Marathon Team Captain.
Orange or purple?: Purple
If I could travel anywhere: I would love to travel to Germany! My grandfather, who was in the Army, was stationed in many places across Germany. I would love to see all of the places my mom's family lived while growing up.
Three things I cannot live without: My faith, my family, and chicken wings.
My favorite Clemson class: My favorite classes were Organic Chemistry 1 & 2! I know, I know this sounds crazy. But truly, these classes taught me that there is not just one way to look at things. It challenged me to think outside of the box and made me a more creative individual.
What makes me happy to be alive: My most cherished moments are when you are with family or friends and you're just dying laughing. I love when joy fills a room.
Three interesting facts about me: I played three sports growing up-- basketball, softball, and dance. I am a clogging national champion. One summer I grew six inches!
My future goals: I plan to attend medical school and become a pediatrician. I absolutely adore kids and their joyful spirits! Outside of work, I want to have a big family and live in a farmhouse (big Chip and Joanna Gaines fan!).
How has the Honors College made a difference in your life?: It has given me wonderful opportunities to mentor and be mentored. I have been able to receive just as much as I give and this is truly such an awesome feeling. I have learned so much and I love sharing this knowledge with those younger than me.