Clemson Honors Student Ambassadors
Looking for a Student Perspective on Clemson Honors?
Clemson Honors Student Ambassadors are Honors student volunteers who are official ambassadors for the Honors College and who are passionate about Honors at Clemson University.
Ambassadors meet with prospective students and their families to provide a student perspective on their various Honors experiences.
They are a diverse group of students, representing each of Clemson's academic colleges listed below, and they are involved in all aspects of campus life. They are developing communication, teamwork, and leadership skills as they interact with prospective students and their families.
You can read more about each ambassador within their major's college.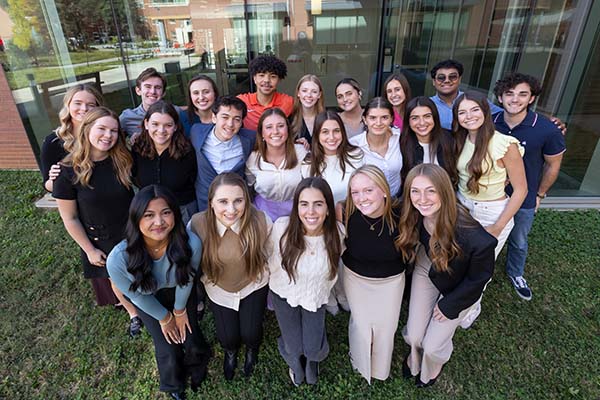 Name: Michaela Santelia
Hometown: Chappaqua
Major: Biology
Class: 2023
Email: msantel@g.clemson.edu
Introduction: Hi! My name is Michaela Santelia. I am a sophomore Biology major from Chappaqua, New York. Some of my interests include working out, cooking, sunset walks on the dikes, and going to the beach. I hope to one day become a pediatric oncologist.
Ask me about...: Ask me about the organizations I am involved in, campus housing, Greek life, the best places to eat in Clemson, activities to do on the weekends, different club sports, and how to get involved!
My advice for prospective students: My advice for prospective students is to research to see what types of clubs on campus you are interested in. Getting involved on campus can be a great way to meet people, explore your passions, and develop leadership skills. Join as many clubs as you want, but make sure that you dedicate most of your time to the clubs you are really interested in. Once you dedicate more of your time to fewer clubs, you can take on leadership opportunities and form stronger relationships with people who have the same interests as you!
Why I chose Clemson and the Honors College: The Honors College appealed to me because there are many opportunities for honors students to get involved in. The Honors College offers so many unique courses with smaller class sizes that help students form close relationships with professors. I also value the opportunity to be a part of a smaller cohort with smaller class sizes to gain the benefits of a smaller community within such a large university. The Honors College provides opportunities throughout the four years; one great opportunity I am looking forward to is a summer service trip to work in a hospital and shadow doctors.
My favorite thing about the Honors College: My favorite thing about the Honors College is the community that it brought me. As an out-of-state student, I was so nervous about leaving home, but the Honors College brought me so many friendships and people who changed me for the better. I met so many people who have the same work ethic and career path as me, and I know they will always support me.
My involvement in the Honors College: The Honors College has provided me with lots of opportunities. To begin, I was a EUREKA! participant. EUREKA! helped me adjust to Clemson before freshman year began and allowed me to return to a familiar campus with many connections with professors, older students, alumni, and mentors. During EUREKA!, I worked in a microbiology lab, which sparked my interest in research. Without the Honors College and EUREKA!, I don't think I would have had this opportunity. In addition to EUREKA!, I participated in the Dixon Fellows Program which allowed me to connect with different professors and honors students through meaningful discussion. The Honors College encourages students to expand critical thinking and provides students with outstanding networking opportunities.
My involvement in Clemson University: Outside of Honors, I am a Varsity Rower on Clemson's Crew team. Clemson Crew has given me experience, not only with rowing, but also with community service and fundraising. I encourage prospective students to join Crew because we are a very accepting team and no prior rowing experience is needed. In addition, I am the membership chairman of the Narrative Medicine Club, which is a medical club on-campus that focuses on understanding the stories of patients and medical professionals, which would give us the opportunity to learn about the dynamic relationships that exist within health care. I am also a member of Alpha Chi Omega, which is a sorority on-campus that raises awareness for domestic violence. Finally, I am a member of Clemson Miracle, which supports Prisma Health. We work year-long to raise funds and awareness through campus-wide and community events For The Kids.
Orange or purple?: Both
If I could travel anywhere: If I could travel anywhere in the world, I would choose to go to Italy. My dream is to visit the Amalfi Coast because I have family members who live there and constantly tell me how beautiful it is. I hope to study abroad in Italy and shadow doctors!
Three things I cannot live without: The three things that I cannot live without are Pizza, my family, and Clemson football!
My spirit animal: My spirit animal is a dolphin because I am a very fun and outgoing person. Dolphins are known to be very energetic, loving animals with many different meanings attached to them. Dolphins demonstrate inner strength, cooperation, and peace. As a middle chil
My favorite Clemson class: My favorite Clemson class that I have taken is Chemistry 1010/1020. Before coming to Clemson, chemistry was always very challenging for me, but my professor always made the class laugh and made going to an 8 am Chemistry class enjoyable. Chemistry changed
What makes me happy to be alive: There are so many little things in life that make me happy to be alive. Most importantly, I love to spend time with my family. Whether we are just watching a movie together, or playing sports, I enjoy every second that I spend with them.
Three interesting facts about me: I am the middle child of five, I have played basketball ever since I was in 2nd grade, and I love to paint.
My future goals: After college, I hope to attend medical school, complete my residency, and one day become a pediatric oncologist.
How has the Honors College made a difference in your life?: The Honors College has helped me form so many lifelong friendships, which continue to make my Clemson experience so incredible. In addition, conducting undergraduate research in a microbiology lab through the Honors College was an extremely enriching experience. The opportunity to work with graduate students who became my mentors helped me become a better mentor and student.