Clemson Honors Student Ambassadors
Looking for a Student Perspective on Clemson Honors?
Clemson Honors Student Ambassadors are Honors student volunteers who are official ambassadors for the Honors College and who are passionate about Honors at Clemson University.
Ambassadors meet with prospective students and their families to provide a student perspective on their various Honors experiences.
They are a diverse group of students, representing each of Clemson's academic colleges listed below, and they are involved in all aspects of campus life. They are developing communication, teamwork, and leadership skills as they interact with prospective students and their families.
You can read more about each ambassador within their major's college.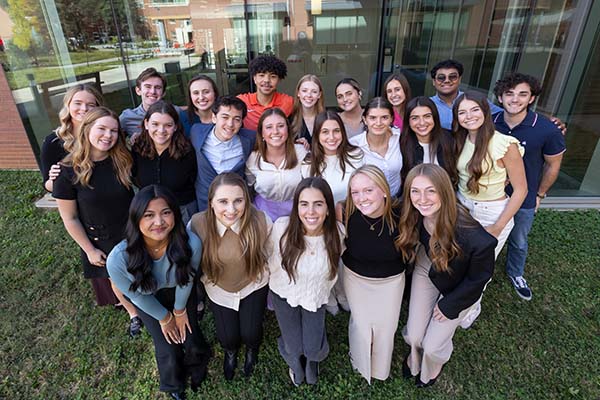 Name: Owen Daugherty
Hometown: Pittsburgh
Major: Industrial Engineering, Business Administration Minor
Class: Class 2023
Email: odaughe@clemson.edu
Introduction: Hey! I'm Owen, and I am part of Clemson's 2023 class from Pittsburgh, Pennsylvania. I am majoring in Industrial Engineering and minoring in Business Administration. I love to play sports, play video games, hike, and hang out with my friends. I am still not too sure about what I want to do in the future, but I have always liked science and math, and I am hoping that I will continue to learn more about what I want to do based on my classes in the upcoming years.
Ask me about...: I am a member of Baja SAE and Habitat for Humanity. I am also an Honors Student Ambassador and will be the Alpha Lambda Delta Honors Society Treasurer next year, so feel free to ask me about my participation in any of these!
My advice for prospective students: I know searching for the right college can be lead to lots of work and stress, but it is important to remember that everything will work out well and all that really matters is you enjoy your time while both looking at colleges and while in college. With hard work and dedication, you can do anything you want.
My advice for current students: Study hard and be disciplined, but never forget to relax and spend time with friends. All work and no play generally leads to being dissatisfied or unhappy, and your satisfaction and happiness should be of utmost importance.
Why I chose Clemson and the Honors College: I know it sounds typical, but the Clemson family really is the most unique group I have ever been a part of. Once I narrowed down my colleges, I was looking for a place that felt right. The people that I have met both before and after becoming a student have always been to friendly that it is hard to not feel like you are a part of the college. The Honors College only enhances this experience by allowing you to live with other Honors students who are taking the same classes as you, giving you the opportunity to bond with so many people from meeting them on your floor or participating in all of the events that the Honors College holds throughout the year.
My favorite thing about the Honors College: I love the study spaces located throughout the dorms and near the Great Hall. They are a great place to study with friends and they can either be as quiet or social as you want them to be. This allowed me to focus on studies and have fun whenever I needed to.
Orange or purple?: Purple
My spirit animal: I think my spirit animal is a wolf because it is very serious and determines while also caring and playful.
What makes me happy to be alive: Playing soccer is always a great release. Pickup and intramural soccer just let me play for a couple hours and forget about whatever stress is happening in my life.
Favorite place on campus: Favorite place: the amphitheater. Most likely to be found at: Raising Cane's, especially during free meal swipe hours.
How has the Honors College made a difference in your life?: The Honors College has provided me with the opportunity to meet new friends and new people that I can learn from everyday. Every person in the Honors College has a habit, hobby, or passion that I can learn from to make myself a better person and I think that that is really special.