Clemson Honors Student Ambassadors
Looking for a Student Perspective on Clemson Honors?
Clemson Honors Student Ambassadors are Honors student volunteers who are official ambassadors for the Honors College and who are passionate about Honors at Clemson University.
Ambassadors meet with prospective students and their families to provide a student perspective on their various Honors experiences.
They are a diverse group of students, representing each of Clemson's academic colleges listed below, and they are involved in all aspects of campus life. They are developing communication, teamwork, and leadership skills as they interact with prospective students and their families.
You can read more about each ambassador within their major's college.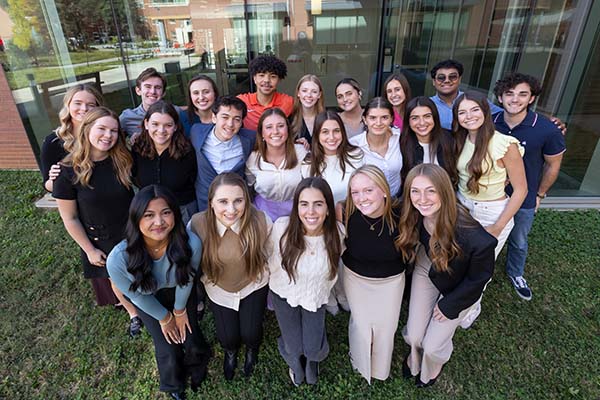 Name: Raleigh Adams
Hometown: Easley
Major: Political Science B.A., Philosophy B.A.
Class: May 2024
Email: raleiga@g.clemson.edu
My involvement in the Honors College: - Honors Ambassadors - Honors Student Advisory Board - Dixon Fellows - Eurkea! Research - SASH Mentee
My involvement in Clemson University: - CUSG (senate, executive committees, and judicial branch) - Silver Wings (service society within ROTC) - Central Spirit - Welcome Week - Club fencing - CBSHS Advisory Board - Lyceum Fellows
Why I chose Clemson and the Honors College: I come from a long line of Clemson grads, going all the way from my cousin just a few years back in 2018 to my great-grandpa in the 1950s. Coming from this legacy, I knew during the college selection process that this was where I belonged. I had grown up playing on Bowman from before I could even read the clock on Tilman, there was no other place I could imagine being. The Honors College further solidified this decision for me. It seemed like the final sign that Clemson was the right place for me to have the opportunity to be a part of and connected to this wonderful college. It was a reassurance that the dedication to my academics and personal development I had poured myself into in high school would be further continued for the next four years, with a safety net of connections and resources that would help propel me to the next step in life.
My future goals: My dream job is to work in research in some way!