Clemson Honors Student Ambassadors
Looking for a Student Perspective on Clemson Honors?
Clemson Honors Student Ambassadors are Honors student volunteers who are official ambassadors for the Honors College and who are passionate about Honors at Clemson University.
Ambassadors meet with prospective students and their families to provide a student perspective on their various Honors experiences.
They are a diverse group of students, representing each of Clemson's academic colleges listed below, and they are involved in all aspects of campus life. They are developing communication, teamwork, and leadership skills as they interact with prospective students and their families.
You can read more about each ambassador within their major's college.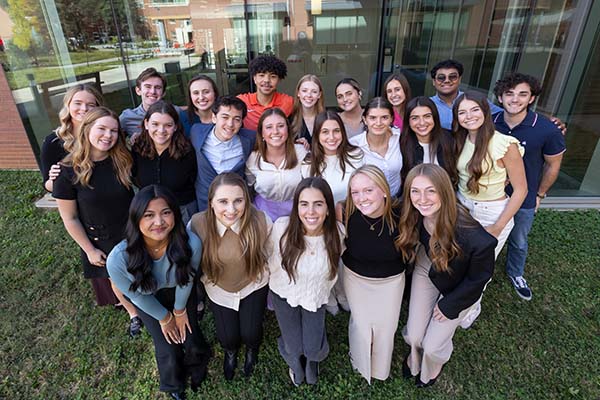 Name: Zach Hubbarth
Hometown: Fort Mill
Major: Mechanical Engineering
Class: 2022
Email: zshubba@clemson.edu
Introduction: Hello everyone! I'm Zach Hubbarth, and I'm a junior Mechanical Engineering major from Fort Mill, SC. In my free time, I like to play sports with my friends, listen to and make music, and cook! In the future, I hope to change the world by developing renewable energy as our primary source of electricity, start my own business, and help those in need with my work.
Ask me about...: The EUREKA! program, the food at Core, what Clemson job fairs are like
Why I chose Clemson and the Honors College: For me, Clemson was an obvious choice because I was an in-state engineering major. I chose the Honors College because I knew I wanted to get more out of my 4 years here than a B.S.
My favorite thing about the Honors College: My favorite thing about the Honors College is the EUREKA! program. You're instantly connected with peers, faculty, and other resources, all of whom will be extremely helpful during your time here.
My involvement in the Honors College: I've participated in Honors Peer Mentoring and SASH (Seniors Advising Sophomores in Honors), which are valuable mentoring resources for freshmen and sophomores, respectively. I also served on the Deschamps/Cribb Community Council when I was a freshman, planning both social and advocacy events. Most importantly, I was a participant and then a counselor for the 2018 and 2019 EUREKA! program, which introduced me to many people within the Honors College community.
My involvement in Clemson University: I participate in intramural sports and worked for the University as a referee. I also have done a Creative Inquiry in the Chemical Engineering department.
Orange or purple?: Purple
If I could travel anywhere: Spain. It has the perfect weather, the people are considerate, and the sights are truly unique compared to the rest of Europe.
Three things I cannot live without: Pizza, video games, and my trusty water bottle
What am I most thankful for this year?: I'm thankful for the opportunity to study abroad in France last Spring semester. It was cut short by COVID-19, but I felt like I learned so much about myself and the world.
My spirit animal: Dog, because I'm super friendly and seeing people makes me excited!
My future goals: I want to make essential resources, specifically energy, available to everybody in the world.
What did you do this summer?: I did research in the Dynamic Matter Lab with Dr. Suyi Li in the Mechanical Engineering department. My research is focused on building a soft angle sensor for folds in an origami structure.
What are your plans after graduation?: I have been accepted to the Edison Engineering Development Program with GE Gas Power! This is a 2-year rotational program that allows me to get my Master's degree while also doing work as I rotate through different positions.
How has the Honors College made a difference in your life?: The classmates I've met through the Honors College have introduced me to almost every opportunity I've found here. If it weren't for my friends telling me about an amazing opportunity to study abroad in France, I wouldn't have been able to do it.