Dixon Global Policy Scholars
An exciting program for a select number of Honors students, the Dixon Global Policy Scholars (GPS) offers a challenging learning opportunity for students interested in pursuing a major scholarship (such as the Rhodes, Truman or Marshall) and in enhancing their knowledge of the issues that shape the world.
The Dixon GPS students travel together on a study program to Europe, and will take specialized courses in dealing with politics, economics, philosophy, and public policy.
Other features of the program include topical discussion groups and individualized mentoring.
This program is limited to 12 students per year. Freshmen and sophomores from all majors are encouraged to apply.
Program Benefits
A European travel experience (see important note on potential impacts to travel below)
Support in applying for major scholarships and graduate school
Specialized coursework, seminars, workshops, and student-led discussion groups
Preparation for Major Fellowship applications, such as the Rhodes, Marshall, and Truman Scholarships
Maymester Study Travel
Students chosen to be Dixon Global Policy Scholars will have the opportunity to participate in an intensive Maymester experience based in France and Germany, through which you will learn about the European Union.
This trip will be planned in coordination with a travel provider with experience in leading meaningful study-abroad experiences for American and international students. Highlights include:
Visits to key European institutions and important historic sites and museums
Meetings with key policy-makers, diplomats, academics, and journalists
Tours of museums and historic sites
Note on Potential Impacts to Travel
We plan to travel with the GPS students accepted during the upcoming application cycle. However, there is a possibility that the trip could be delayed if there are country-specific or University travel restrictions. 
In order to participate in the GPS travel experience, students must comply with all health and safety protocols required by our travel provider and by the destination country or countries.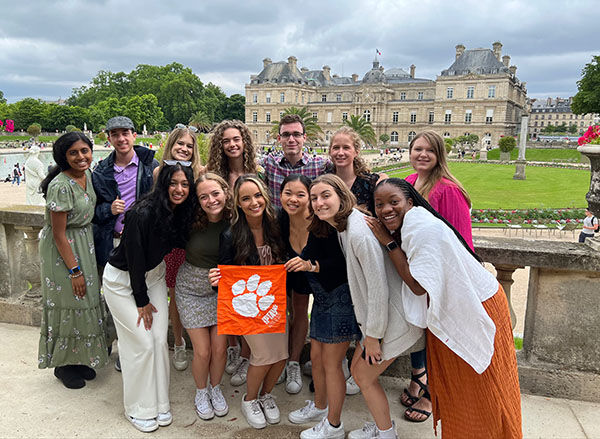 "You'll have someone from bioengineering and someone from computer science or environmental studies or political science all contributing to how different issues apply to their fields. Those discussions are some of my favorite Clemson experiences so far because they helped me see the importance of interdisciplinary work and how it can positively impact public policy development."

Louise Franke

Dixon GPS Program Alumna ('22)

Clemson's first-ever Rhodes Scholar
Eligibility
The Dixon GPS program is open to:
First year students who have a suggested minimum 3.60 GPR
Sophomores who have a suggested minimum 3.75 GPR
Applicants with an interest in pursuing a major scholarship, such as the Rhodes, Truman or Marshall
Applicants with an interest in deepening their understanding of global policy, economics, politics, culture, science, technology and the arts
Important: The committee will accept applications from students with lower GPRs than the suggested minimums listed above with sufficient justification, but all students must have a 3.5 GPR to be eligible for Honors travel.
All students must have a valid passport and (if necessary) other documentation for travel to Europe.
Cost
The only cost paid by participants will be for the required course taken in association with the GPS travel experience (one hour in-state tuition plus study abroad fees), and incidental travel expenses, including some meals.
Limited financial aid may be available. As noted above, the timing of the travel experience is uncertain at this time.
Application
Applications are due on January 28, 2024. The application will open on January 3, 2024. Honors students interested in learning more about the program are encouraged to attend information sessions during the week of January 15. Watch the Honors weekly newsletter for details about these sessions and the application process.
Letter of Support
Each applicant is required to have a Letter of Support from a Clemson faculty member. 
If you are applying for Dixon GPS within the application cycle, be sure to send your recommender the link for submitting their Letter of Support and also give them the following information.
When writing a letter of support for a student who is applying to Dixon GPS, the criteria that should be addressed include:
Evidence of and continued potential for academic success including the student's ability to think and write analytically.
The student's maturity, motivation, and seriousness of purpose.
The student's level of interest in international and/or national issues.

The student's p

otential to have an impact on their community and/or the world

.
Joseph E. and Caroline G. Dixon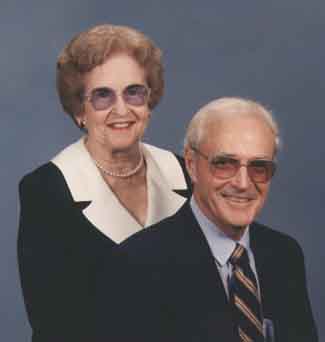 Joseph E. Dixon
Joseph E. Dixon was born in 1917 in Dillon, South Carolina, son of Harry Edmiston Dixon and Nina David Dixon. He grew up in South Carolina and attended elementary through high school in Columbia. 
At Clemson University, from which he graduated in 1939, Mr. Dixon lettered in varsity boxing and earned a Bachelor of Sciences degree. In October 1940, he was called into the service and during his six and one half years in the Army, served in the Pacific and European theaters and was promoted from Second Lieutenant to Infantry Major.
After returning home from World War II in 1946, he began working in Philadelphia as a sales representative for World Book Encyclopedia, part of Field Enterprises, Inc. During his over thirty-five years with World Book, he was sales manager for South Carolina and part of Georgia. For eleven out of twelve years, 1968-1979, the branch under his management led the eighty-four branches in the United States and Canada in total sales. He concluded his World Book career as Senior Vice President in charge of sales for the Eastern United States and Canada.
Mr. Dixon was a member of Eastminster Presbyterian Church, where he served as a deacon and Boy Scout leader. Mr. Dixon passed away in 2010.
Caroline Goggins Dixon
Caroline Goggans Dixon was born in Columbia, daughter of the late James Furman Goggans and Isoline Wyche Goggans. After graduating from old Columbia High School, she attended Hollins College and graduated from the University of South Carolina. Not only did she do substantial work as a community volunteer, but she was also a major source of support in the course of Mr. Dixon's career with World Book Encyclopedia. Her work as a community volunteer included serving as president of The Junior League of Columbia and as treasurer of the Board of Directors of the Historic Columbia Foundation. Mrs. Dixon was one of a six-member committee that directed and carried out the campaign to raise funds necessary to save the endangered Robert Mills House in 1962 and later received the Historic Columbia Foundation Award for Distinguished Achievement in Historic Preservation. A longtime supporter of the Columbia and Metropolitan Opera guilds, she was also a member of The National Society of The Colonial Dames of America and of The Daughters of the American Revolution. She was a member of Eastminster Presbyterian Church in Columbia. Mrs. Dixon passed away in 2000. She and Mr. Dixon are survived by two children and two grandchildren.
If you have questions or comments, or are interested in hearing more about the Dixon Global Policy Scholars program, please contact Dr. Jeff Fine, Senior Associate Dean of the Honors College.