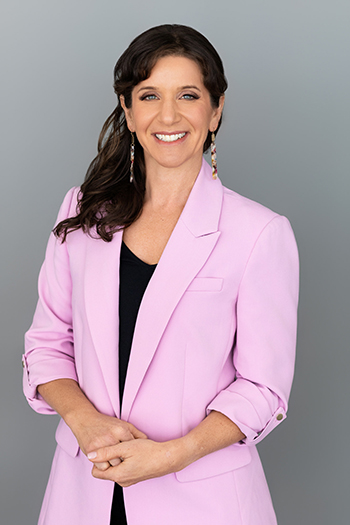 Educational Background
Ph.D. Special Education
University of Virginia 2016
M.Ed. Special Education
Vanderbilt University 2009
B.S. Social Work
University of Vermont 2004
Profile
Dr. Shanna Hirsch is a graduate of Vanderbilt University (M.Ed) and the University of Virginia (Ph.D.). She is an Associate Professor of Special Education in the College of Education. Her scholarship is represented by two main lines of research related to special education with a focus on emotional behavioral disorders (EBD): (a) identifying effective instructional methods for preservice and in-service teachers' classroom management and functional-assessment based interventions and (b) creating effective and sustainable university-district research-practice partnerships. Across these lines, she draws on theories rooted in applied behavior analysis, practice-based professional development, community engagement, and multimedia design theory. To date, she has published over 55 journal articles and delivered over 100 conference presentations and webinars. Dr. Hirsch is an elected board member of the Association of Positive Behavior Supports and serves on several editorial boards (e.g., Behavioral Disorders, Exceptional Children, Intervention in School and Clinic).

Dr. Hirsch is a Co-Principal Investigator on Project FRaME (Using Feedback, Reflection, and Multimedia to Teach Evidence-Based Practices in Classroom Management). Project FRaME (Dr. Michael Kennedy, PI) is a four-year Institute of Education Science development grant related to multimedia instruction in teacher preparation coursework related to classroom management. She is also a Co-Principal Investigator on CT-STEM Pop-Ups4all: An RPP for Agile Learning (Dr. Danielle Herro, PI). This is a three year National Science Foundation, Research-Practitioner Partnership grant.

Dr. Hirsch works with students to conduct research in schools and on campus. She also facilitates a Creative Inquiry. If you are interested in working with Dr. Hirsch, please contact her at ShannaH@g.clemson.edu.
Courses Taught
EDHD 3110: Creative Inquiry – PBIS Films
EDHD 3110: Creative Inquiry – Mixed Reality Simulator
EDHD 3110: Creative Inquiry – Technology and Education
EDSP 3700: Introduction to Special Education
EDSP 3740: Characteristics & Strategies for Individuals with Emotional/Behavioral Disorders
EDSP 3741: Characteristics & Strategies for Individuals with Emotional/Behavioral Disorders Laboratory (mixed-reality simulator – Undergraduate)
EDSP 4990: Special Education Honors Research and Dissemination

EDSP 8560: Intensive Behavioral Interventions for Individuals with Disabilities
EDSP 8370: Research in High Incidence Disabilities
EDSP 8540: Applied Behavior Analysis
EDSP 8710: Ethics and Legal Issues in ABA

EDSP 9390: Professional Writing in Special Education
EDSP 9500: College Teaching and Field Supervision in Special Education
EDSP 9910: Dissertation
EDSP 9970: Direct Research
Research Interests
SELECTED PUBLICATIONS (* Indicates a co-author was a student at time of preparation)

Hirsch, S. E., Griffith, C., *Kelley, M. H., *Carlson, A., & *McKown, G. (2023). Increasing preservice teachers' knowledge and skills using a mixed-reality simulator: The tale of two studies. Teacher Education and Special Education. https://doi.org/10.1177/08884064231154028

Hirsch, S. E., Lewis, T. J., Griffith, C. A., *Carlson, A., Brown, C., & Katsiyannis, A. (2023). An analysis of selected aspects of functional behavioral assessments and behavior intervention plans. Journal of Special Education. https://doi.org/10.1177/00224669221146168

Hirsch, S. E., Mathews, H., *Carlson, A., Griffith. C., & Walker, A. (2023). Using Project ECHO during the pandemic to connect special educators who work with students with Emotional Behavioral Disorders. Journal of Emotional and Behavioral Disorders. DOI: 10.1177/10634266231154196

Herro, D., Madison, M., Arastoopour Irgens, G., Hirsch, S., *Abimbade, O., & *Adisa, O. (2022). Exploring elementary teachers' perceptions of data science and curriculum co-design through professional development. Journal of Technology and Teacher Education, 30(4), 493-525. https://www.learntechlib.org/primary/p/220700/.

Arastoopour Irgens, G., Hirsch, S., Herro, D., & Madison, M., (2022). Analyzing a teacher and researcher co-design partnership through the lens of communities of practice. Teaching and Teacher Education. https://doi.org/10.1016/j.tate.2022.103952

*Randall, K. N., Ryan, J. B., Hirsch, S. E., & Allen, A. A. (2022). A self-monitoring intervention to improve the self-determination of individuals with intellectual and developmental disabilities in a postsecondary education setting. Focus on Autism and Other Developmental Disabilities. https://doi.org/10.1177/108835762211216

Hirsch, S. E., Stevenson, N. A., *Ellis, K., & Neese, R. N. T. (2022). Together we go far: Helping doctoral scholars develop collaborations in special education research. Journal of Special Education Apprenticeship, 11(2). https://scholarworks.lib.csusb.edu/josea/vol11/iss2/6

Hirsch, S. E., Griffith, C., Chow, J.C., Walker, A. C., & *Walters, S. (2022). Professional learning and development for special educators serving students with emotional and behavioral disorders in self-contained settings. Behavioral Disorders. https://doi.org/10.1177/01987429221110838

*Qualls, L., *Carlisle, L., & *Day, J., & Hirsch, S. E. (2022). Selecting and integrating high-quality videos into preservice education. Journal of Special Education Preparation, (2)1, 38-47. DOI: 10.33043/JOSEP.2.1.38-47

Bruhn, A. L., Choi, Y. J., McDaniel, S., Mathews, H. M., & Hirsch, S. E. (2022). Meeting the needs of students with emotional and behavioral disorders during the COVID-19 school closures. Behavioral Disorders. https://doi.org/10.1177/01987429211067472

Hirsch, S. E., Bruhn, A. L., McDaniel, S. M., & Mathews, H. (2022). A survey of educators serving students with emotional and behavioral disorders during the COVID-19 pandemic. Behavioral Disorders, 47(2) 95–107. https://doi.org/10.1177/01987429211016780

*McKown, G., Hirsch, S. E., *Carlson, A., Allen, A., &. *Walters, S. (2022). Preservice special education teachers' perceptions of mixed-reality simulation experiences. Journal of Digital Learning in Teacher Education, 38(1), 4-19 https://doi.org/10.1080/21532974.2021.1995796

Griffith, C. A., Hirsch, S. E., & Burns, T. (2021). Implementing functional assessment-based interventions in secondary settings: Strategies for overcoming barriers. TEACHING Exceptional Children. https://doi.org/10.1177/00400599211029675

Hirsch, S. E., *Randall, K., Bradshaw, C. P., & Lloyd, J. W. (2021). Professional learning and development in classroom management for novice teachers: A systematic review. Education and Treatment of Children. https://doi.org/10.1007/s43494-021-00042-6

Hirsch, S. E., Bruhn, A. L., McDaniel, S. M., & Mathews, H. (2021). A survey of educators serving students with emotional and behavioral disorders during the COVID-19 pandemic. Behavioral Disorders. https://doi.org/10.1177/01987429211016780

Hirsch, S. E., & McDaniel, S. (2021). Remote instruction and interventions: Considerations for students with disabilities. Intervention in School and Clinic, 57(2), 75-77. https://doi.org/10.1177/10534512211001828

*Walters, S., Hirsch, S. E., *Carlson, A., *McKown, G., & Allen, A. (2021). Mixed-reality simulation with preservice teacher candidates: A conceptual replication. Teacher Education and Special Education. https://doi.org/10.1177/08884064211001453

Hirsch, S. E., McDaniel, S., La Salle, T., & Walker, A. C. (2021). Instructional management for students with emotional and behavioral disorders in remote learning environments. Intervention in School and Clinic, 57(2), 78-86. https://doi.10.1177/10534512211001825

Hirsch, S. E., & Philips, G. (2020). Establishing a district-university partnership to support students with disabilities. Palmetto Administrator. 20-23.

MacSuga-Gage, A. S., Gage, N. A., Katsiyannis, A., Hirsch, S. E., & Kinser, H. (2020). Disproportionate corporal punishment for students receiving special education services and Black and Hispanic Students. Journal of Disability Policy Studies. https://doi.org/10.1177/1044207320949960

Nagro, S., Hirsch, S. E., & Kennedy, M. J. (2020). A self-led approach to improving classroom management practices using video analysis. Teaching Exceptional Children. https://doi.org/10.1177/0040059920914329

Hirsch, S. E., Chow, J., *Randall, T., *Nemer, S. L., & *McKown, G. (2020). Effect of embedded responses in multimedia-based instruction with preservice teachers: A conceptual replication. Behavioral Disorders. doi.org/10.1177/0198742920911178

Larson, K., Hirsch, S. E., McGraw, J., & Bradshaw, C. P. (2020). Preparing preservice teachers to manage behavior problems in the classroom: The feasibility and acceptability of using a mixed-reality simulator. Journal of Special Education Technology, 35, 63-75. doi.org /10.1177/0162643419836415

Links
Google Scholar
ORCID
Publons/Web of Science
Research Grate
Connected Learning in Education and Research Lab