About the College of Education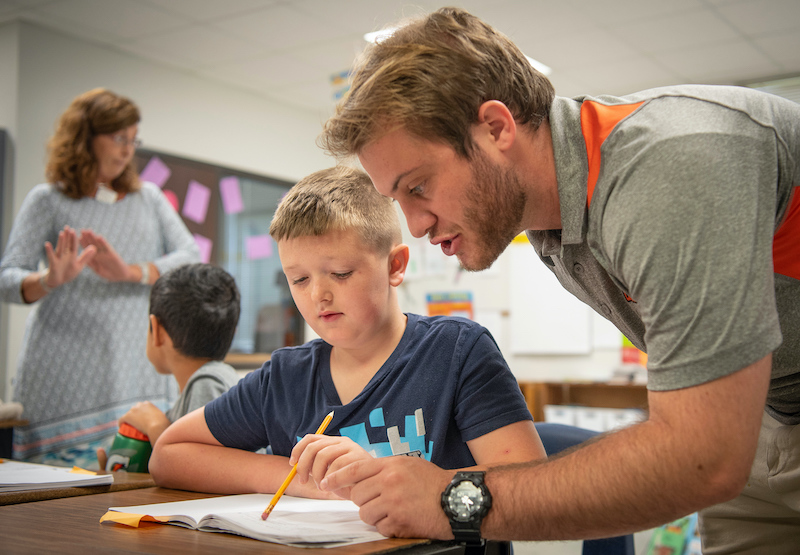 Clemson University's College of Education is a transformative leader in systematically improving education, beginning at birth. We train teachers, counselors and leaders for P-12 schools; prepare counselors to serve in communities; train student affairs practitioners, administrators and faculty to serve in higher education; and prepare training and development specialists for business and industry. But we do even more. We engage tomorrow's educators in high-quality research and professional learning that will help them make a difference in the world.
The College of Education is dedicated to enhancing the education and development of all students, particularly those in underserved communities. We not only shape the lives of individuals; we also help transform families and communities. We see a significant role for our college in the economic development of our state and nation, and we embrace Clemson's land-grant mission to better the lives of South Carolina's citizens.
The College of Education includes three academic departments – Education and Human Development; Educational and Organizational Leadership Development; and Teaching and Learning – and the endowed Eugene T. Moore School of Education, home to nationally renowned classroom and clinical training for pre-service teachers, professional mentoring of early-career teachers, and cutting-edge continuing education for in-service teachers. The school is named for the late Eugene T. Moore, a 1949 graduate of Clemson University who committed his adult life to education as a teacher, coach and principal in Florence County, S.C. In 2002, Darla Moore, daughter of Eugene T. Moore, and her husband, Richard Rainwater, gave a $10 million gift to Clemson to name the school in her father's honor.
The candidate performance in the College of Education is strong, and we are committed to our conceptual framework. We are nationally accredited by the state of South Carolina, NCATE (recently merged with TEAC to become CAEP), and CACREP. Our teacher preparation programs, literacy, and principal and superintendency educational leadership programs are nationally recognized by their specialized professional association standards.
We embrace a commitment to a diverse faculty, staff and student body and provide all with diverse experiences within our programs. Housed in the College of Education is such nationally acclaimed programs as Call Me MISTER®, ClemsonLIFE™ and the Reading Recovery® and Early Literacy Training Center for South Carolina.
Education and Human Development
Addressing issues within schools and communities, this department offers programs in clinical mental health counseling, learning sciences, literacy, school counseling and special education.
Educational and Organizational Leadership Development
Recognized for excellence across the nation, this department focuses on developing educational and organizational leaders.
Teaching and Learning
This department prepares students who seek to make a difference in their communities – and the world – through careers in curriculum and instruction, early childhood education, elementary education, middle level education and secondary education.
College of Education
College of Education | 101 Gantt Circle