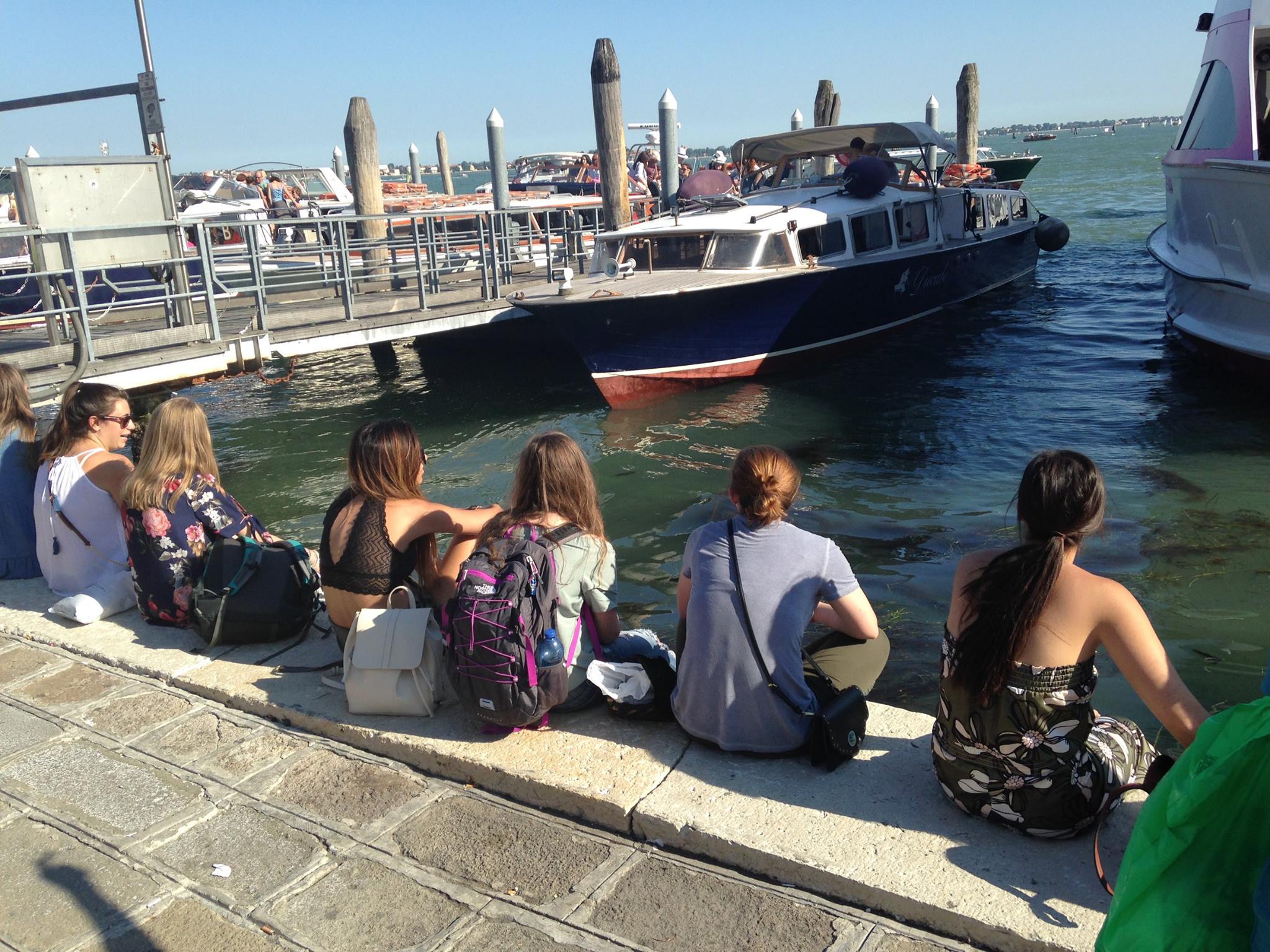 Interested in Study Abroad?
Are you interested in Study Abroad opportunities at Clemson University with the College of Education? If so, follow this process: 
Attend a Study Abroad 101 Session! Information about days and times offered can be found on the Study Abroad website.
After attending a Study Abroad 101 session, students are encouraged to meet with their assigned academic advisors to discuss academic requirements and to identify potential classes or subjects that they will be able to take while abroad.
Do not wait to plan your Study Abroad experience! College of Education majors have very specific requirements, and students are encouraged to meet with their advisor as early as possible to discuss their options of where Study Abroad may fit in their academic career.
Check out the Reggio Emilia, Italy, study abroad opportunity.
You may also want to meet with a financial aid counselor concerning financial aid options and possible scholarships.
For more information, visit the Study Abroad website.
Reggio Emilia Collaborative Study Abroad
History of the Program
Reggio Emilia, Italy, is a city of around 175,000 in north-central Italy. It is located in the agricultural and textile-rich area of Italy and is known for the outstanding schools, healthy communities, beautiful architecture, and a rich history of the arts. This region of Italy is also known for its balsamic vinegar, Cheese, wine, textiles, and design.
Students from Clemson University first traveled to Reggio Emilia, Italy in May of 2006 to study the Reggio Emilia Approach to education. Joining the Clemson group were students and faculty members from the College of Charleston. A few years later, the University of South Carolina joined the group, thus the Reggio Emilia Collaborative Study Abroad trip has evolved into a very successful experience for approximately 30 students and six faculty members from these universities in South Carolina.
The focus of the trip includes the schools, communities, and host families in Reggio Emilia, Italy. Students are paired and stay with an Italian host family who provides housing and meals for the students. In addition, these Italian families embrace the American study abroad experience, and they fold their student into their daily routines and family life. Students indicate that staying with an Italian host family is one of the highlights of the experience. Enduring relationships are built between our students and the Italian parents and children, and frequently these relationships result in future trips to Italy by our students and to America by the host families.
Cultural Immersion Experience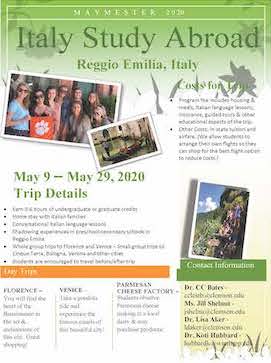 This cultural immersion experience in Italy provides participating students with 3-6 credit hours at the undergraduate or graduate levels, beginning Italian language lessons, observation and direct experiences in Italian classrooms at a level of the student's choice, visits to community sites and workshops at the ReMida Center, Malaguzzi Center, and an Italian dance class. On the weekends, students and faculty travel together to Florence and Venice, and students can elect to stay overnight on these weekend trips. In addition, small groups of students travel on their own to Cinque Terra, Parma, Bologna, Modena, and other cities in Italy.
There is a close relationship between the students and the participating faculty members. Students study a selected topic of research and work with an assigned faculty member, and faculty also travel with the students and share experiences with them.
The ratio of faculty to students is about 1 to 6, and this provides a safe and positive experience for all. Traveling to Europe is a rare opportunity and we encourage and support our students' travel before or after the scheduled trip. Sometimes students fly into Rome and spend several days there before joining the group in Milan's Malpensa airport to begin the formal study abroad experience. Other times, students complete the trip and then travel together or with family members to other sites in Italy or to another country before returning to the States. We encourage students to explore Europe while they have the opportunity, and we work with students to find flight connections, hotels, and other planning in order to facilitate the experience for the student.
College of Education
College of Education | 101 Gantt Circle