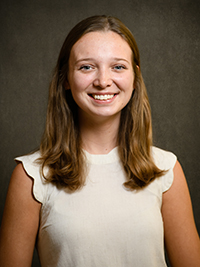 Jillian Broyles
Major: Secondary Education and History Major with a Psychology Minor
Hometown: Summerville, SC
Position: President
Background: Hi everyone! I'm serving as our president this year and I am so pumped to see what we accomplish! In my free time I like to go on walks and take care of my plants! Fun fact: I enjoy water skiing in the summer!
Why I want to teach: I want to teach Social Studies to change the narrative and stigmas surrounding the subject and allow students to learn history through many different points of view. History is too often a dreaded subject for students, and I want to make it enjoyable for them!
Goals & Aspirations: After graduation, I plan on continuing to grad school to pursue a masters in History. I want to explore different places and institutions before I settle down in one spot.